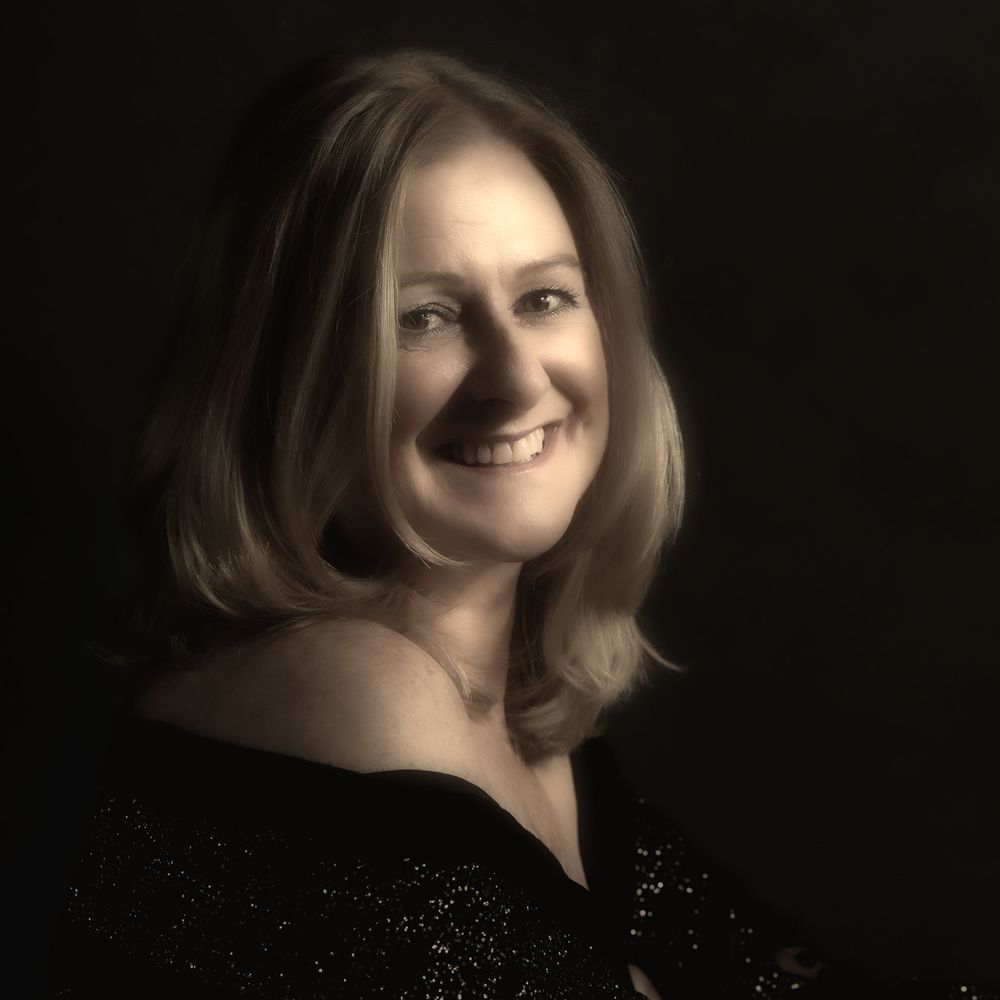 Sue Caroline
professional singer
For many years Sue has managed, performed and guested with many bands. Starting at the age of 14 after winning a succession of talent competitions judged by Big Band leader Ivy Benson, who was astounded by the maturity of Sue's vocals. Sue was then approached by an agent and asked to join a successful function band playing summer seasons and large venues in and across England. Sue's vocal influences include iconic singers such as Ella Fitzgerald, Judy Garland, Doris Day and of course, Barbra Streisand.
Across her career Sue has managed and guest performed with jazz duos, trios, function bands, and Big Bands. She has also appeared in numerous musical theatre productions including Nancy In Oliver, Annie in Annie Get Your Gun, Kate in Kiss Me Kate, Mrs Molloy in Hello Dolly at the Marlowe Theatre, Canterbury and Aladdin in Pantomime.
Sue was also a founding member of Stage 3, a West End trio for fourteen years, who performed in prestigious hotels and venues such as the Telford International Centre Birmingham, Penshurst Place, Leeds Castle, The Rochester Castle Concerts supporting Alfie Boe, P&O Cruises as a guest singer and The Royal Philharmonic Orchestra, as well as the Christmas party for the Cabinet Office in Whitehall.
Whilst with Stage 3, she successfully co-organised events such as Gatsby or Vegas style themed Charity Balls and Christmas Balls, which included the concept, promotion and marketing, catering and table planning, as well as the production for the live performances of Stage 3, a professional dance troupe also including a live function band.
Sue loves interacting with audiences and as well as performing she has compered and coordinated music acts for music festivals, family festivals together with Christmas Lights celebrations and town carnivals.
Sue also recorded a single The Living Tree(also available on other downloading facilites).
Sue is now collaborating with Andy Wall, an accomplished professional bass player and his ensemble, bringing a variety of her vast reportoire to perform different shows and songs to a variety of audiences which has proved enormously popular.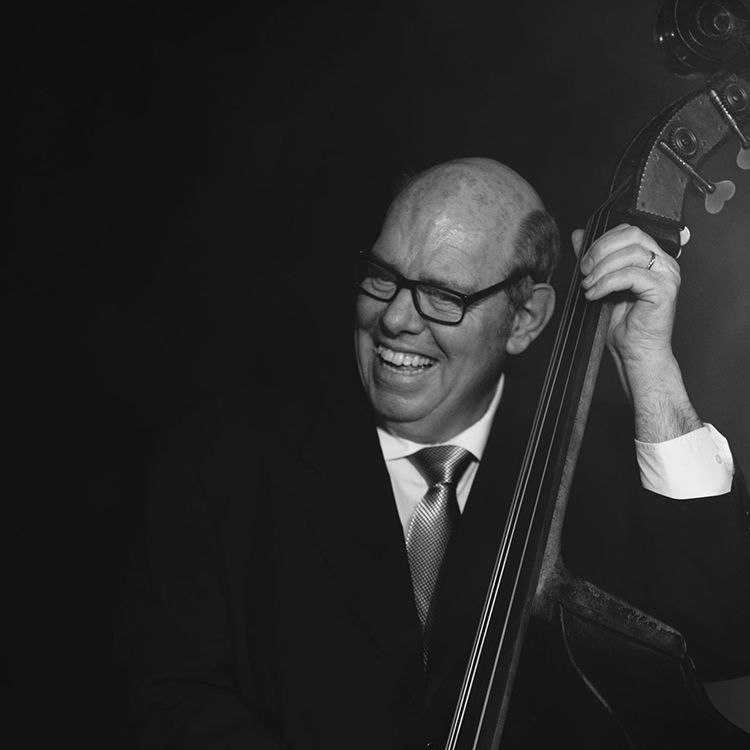 Andy Wall
Professional Bass Player
Andy Wall is principally a bassist playing both Double Bass, bass guitar and Electric Upright Bass. He is in great demand as a freelance bass player in the south east of the UK.
He is a very versatile bassist who can play in all styles including jazz, swing, Latin, big band and classical, as well as pop and function bands. He is an excellent sight reader and has a lot of experience working as a session player for recordings as well pit orchestra work for musicals and stage shows.
Andy started his musical career at the age of 15 in the Royal Marines Band Service playing tuba and cello, subsequently changing to double bass. During his 25 year career in the Royal Marines he travelled extensively around the world. He also served on the HMY Britannia for 6 years performing for Her Majesty the Queen, other members of the Royal Family and other foreign dignitaries.
In 1989 he completed his Band Masters course coming top and was awarded 'The Silver Medal' by the 'Worshipful Company of Musicians' London. In 1990 he successfully passed the LRSM in Conducting and Bandmastership.
During the last five years of his service in the Royal Marines he studied with the Open University and in December 1996, was successfully awarded a Bachelor of Science (Honours) 2 :1 In Applied Social Sciences. After being promoted to Bandmaster his final role was Chief Instructor Higher training in the RMSM before retiring in 1997.
From 1997 to 1999 Andy worked for the Royal Guard of Oman in the middle East. The primary aim was to preform for Royal engagements He successfully formed and training a 22 piece big band which performed for the Sultan of Oman on several occasions.
On his return to the UK in 1999 Andy decided to retrain and become a Mental Health Social worker. He had a successful 10 year career working for 'Kent County Council' and the 'Priory Group' alongside his ongoing musical career.
His musical ethos as a bass player has always been to 'focus on great time, swing well, and try and play great melodic bass lines to enable singers or front line players to perform their best' due to his style of playing. Importantly, Andy is very comfortable on gigs where doubling bass guitar and double bass is required i.e. orchestral or prom concert work
His main passion is playing in a swinging trio backing a great female jazz singer. He also loves pit work and playing for musicals. his number one influence on his style and type of playing and soloing is Ray Brown. He is in great company, as Diana Krall often quotes the number one influence on her music and playing was Ray Brown. Re current English bass players, he likes Geoff Gascoyne's style of playing, sound and melodic bass lines greatly and has undertaken advanced lessons with Geoff on developing basslines and soloing,
Andy's main project is now setting up and forming an exciting new Band with Sue Caroline the 'Sue Caroline and The Andy Wall Trio'. This versatile combo can provide high class cabaret sets as well as swing music and other genres  for dancing. He is also currently playing bass on request for Five Star Swing  www.fivestarswing.co.uk who perform Big band concerts around the country, as well as other various freelance work on request.
Andy is also a very competent Conductor and Band Trainer, particularly in the genres of Wind band and brass band. He has studied under Tim Reynish, Malcom Binney and Clark Rundell. He attended the Advanced wind band conducting course during The 'Canford International Summer school of Music' during the 1990s on three occasions. He continues to undertake conducting or band training roles on request.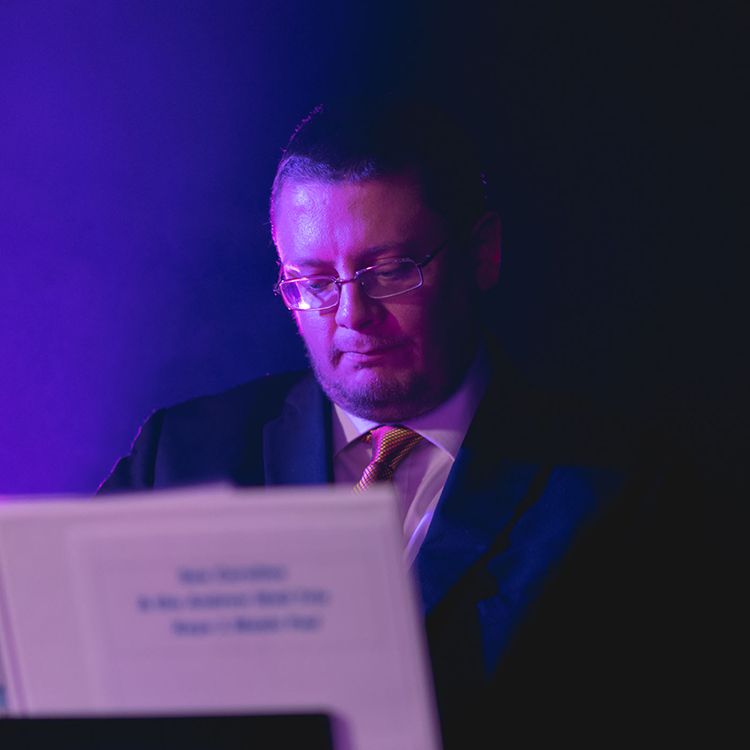 James Taylor
Pianist
James Taylor has been a professional musician for nearly two decades, in which time he has performed at a range of prestigious national and international venues, from Camden Jazz Café and The Spice of Life in London to the Bangalore Club in India, also encompassing Belgium, France, Germany and Italy. He spent five highly successful summers as a cocktail pianist for Brittany Ferries, on the long-haul routes to France, Spain and Ireland, and he has played at numerous weddings and other special occasions, consistently earning high praise from guests and organisers alike.
Over his many years of professional piano assignments, James has acquired a vast repertoire in a whole range of genres, including but not limited to jazz, blues, classical, and even reggae and ska. He is not sure exactly how many pieces and songs are now in his repertoire, but it was in excess of 1,000 in 2011 – the last time he tried to list them all!
As well as playing piano and keyboards, James is also an accomplished guitarist, bassist and singer, with an Associated Board Diploma in Singing. He is a very familiar face on the Kent music scene and has been involved in a wide range of local musical projects and activities for more than a decade. He is currently in six bands and two choirs, as well as being a regular dep for popular local reggae and ska band, Brad Pittance and the Pirates.
James's years of experience as house pianist (and/or bassist and guitarist) at the popular Jazz and Blues Jams at Bramley's Cocktail Bar, one of Canterbury's hottest nightspots, have helped him to develop into a highly sensitive and sympathetic accompanist and team player. Although he enjoys the pyrotechnics and dazzling runs of Oscar Peterson or Django Reinhardt, he also admires the economical brilliance of Bill Evans, and he loves to support other performers rather than always trying to hog the limelight himself.
As well as being a musician, James is also a freelance translator and writer, recently finishing his first novel, the romantic comedy Japonica Secrets. He studied languages at the Universities of Oxford and Surrey, and he speaks French and German as well as English.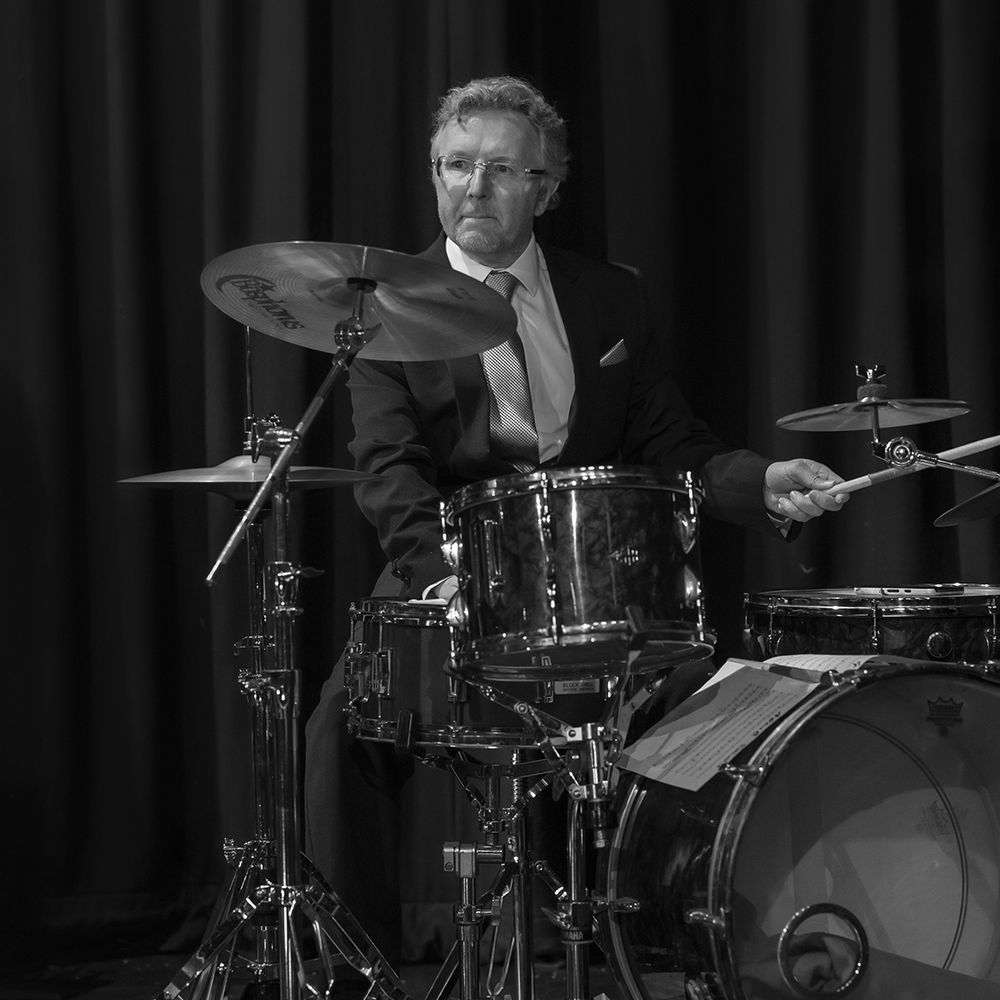 DaveRobinson
Drummer/Percussion/vibes
Dave originates from Sheffield, England and started his musical career in a school band called The Breakaways (after the chocolate biscuit!). As well as drums, he also took in Timpani and tuned percussion and spent the next 15 years in theatre pits across the North of England. Dave also worked with legendary Boogie-Woogie Pianist Bob Hall.
A chance encounter with someone selling a Premier Vibraphone brought this into his arsenal of instruments and he spent more time away from the drum chair as a front-line vibist in several jazz outfits. It was in Sheffield that he also acquired one of the first MalletKats in the UK and a love affair with electronics began. He released two albums with 'Just Friends' before moving down to Dover in Kent.
Since then, he has released the eponymously titled prog rock album 'Testing The Water' before becoming a founder member of the Zen Bicycle Band. 4 Albums over the last 10 years saw their music expand worldwide and be used in film/video projects by emerging artists.  As a session percussionist Dave worked on Michel Chartier's solo album and with Phil Martin's Mandrohne project.
A long-term relationship with top reedsman Dave Corsby in various formats saw a further 5 album releases, primarily with the duo 'Just The Two Of Us'
In 2016, Dave founded Clockwork Vibes, a record label and production company. 'Don't Give Up the Day Job' was the first release to critical acclaim and this was followed by 'In Search Of I' by Mo_Min_Ti and the first album by Jazz/Classical crossover band CUBE.